Chat-Com – Two Way Radio Solutions
Chat-Com was established in January 2016, but our founder and director, James Page-Chatton, has been in the communications industry since 1999. During this time, he saw a gap in the market due to a distinct lack of focus on providing bespoke two way radio solutions which met specific client needs  – ones that were more than an off-the-shelf sale of two-way radios.
James set up Chat-Com to give clients the option of a bespoke communication system that is designed exclusively for their purposes. While anyone can source standard two-way radios, our expertise lies in adding value to a communications system by designing it to a standard that will give you the operational benefits you need and ensuring safety which could save lives.
We believe in personalised service, not a one-size-fits-all approach. This means that you will deal with a communications professional who will work with you to design a customised solution that is targeted to your specific requirements.
Intelligent two way radio solutions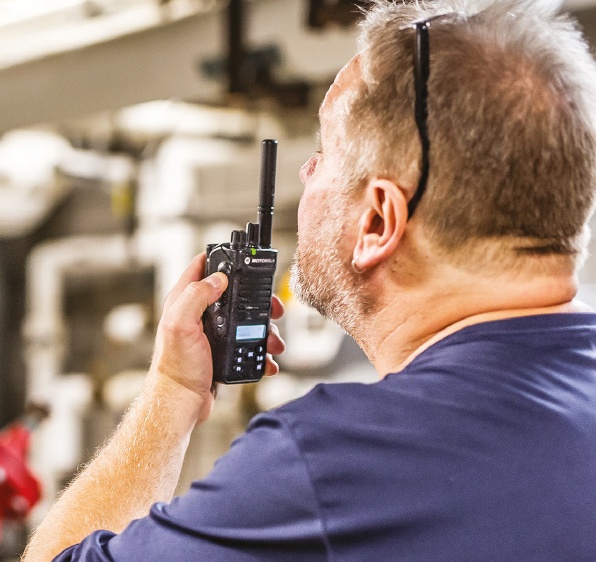 We pride ourselves on providing reliable systems that help you to do your work and deliver for your own clients. Our experience and track record demonstrates our emphasis on reliability and site safety. Chat-Com has now delivered projects across Europe for four FTSE-100 Corporations and continues to expand into new territories. Our product support is available 24/7, 365 days a year.
The size of your site or project makes no difference to us. You will benefit from the same level of service, no matter how big or small the company or project. Our advice will be just as impartial, our products just as carefully sourced, and our service agreements just as detailed.
Our One Contact, One Contract, One Supplier pledge promises you exactly that: a personalised, custom-made solution and service that works for you and keeps your staff safe, and it will come from one provider – Chat-Com.
The Chat-Com guarantee
The Chat-Com guarantee includes the following:
All our systems come with a service agreement that offers a minimum two-year warranty.
We provide phone support 24/7, all year round to help you deal with any problems or issues that may arise.
We minimise downtime by offering immediate replacements, regardless of fault.
Our advice will always be impartial and our solutions market-leading
We meet your deadlines quickly, even at short notice.
A message from the owner
"Over many years, I have always built great relationships with both clients & suppliers alike, taking extra pride in delivering unbeatable customer service with market leading solutions. I believe success in any businesses is achieved by listening to your clients needs and aligning the business accordingly. I believe in building trusting relationships, by demonstrating the value of innovative and comprehensive solutions."
James Page-Chatton
Do You Have A Radio Communications Project We Can Help With?
What Our Customers Are Saying About Us
"Chat-Com provided a refreshingly new set of eyes to look at the problem and came up with a good solution to overcoming the problems we had encountered when looking at other two-way radio and communications companies and their proposals.

3 years on and the transmission continues to work brilliantly. The equipment works as well now as it did on day 1, and we know that Chat-Com will always be on hand to assist in any situation."
"Since the very start of the project, we feel Chat-Com were the missing link in order for us to fulfil our contractor's two-way radio requirements.

We are overwhelmed with the service Chat-Com provides from start to finish and that's why we feel confident in recommending them to all of our clients. James is always there to guide us every step of the way and he gives 100% support! Chat-Com really does listen to what their clients' needs are.

Over the past 4 years, the Chat-Com solution has grown with our needs and expanded to utilise new technologies. James has also forged new relationships with our contractors to enable them to take advantage of this solution and experience all of the benefits that we have seen over the project lifecycle."
"We were desperate for a comms solution that could help us improve our efficiency and effectiveness across a busy and complex site. Chat-Com immediately recognised our challenges and provided us with a solution that was right for us, from both a technical and functional perspective.

The new two-way radio solution has enabled instant communication between our disparate teams, along with crucial lone worker safety features. Orders can be handled in a much more agile way meaning we are meeting our customers expectations in a very busy environment."
Partnerships & Accreditations