Introducing Motorola WAVE PTX – Long Range Two-Way Radio Over 4G
Seamless long range communication across radios, mobiles and tablets over 4G & wi-fi
What is Broadband Push To Talk?
Broadband push to talk provides the function of a traditional two-way radio network, but over wi-fi and 4G, rather than UHF or VHF radio frequencies.  This means you get a long range two-way radio network, with all the benefits of push-to-talk (PTT), but with an unlimited range.  WAVE PTX is a network-independent subscription service from Motorola Solutions that allows any wi-fi or 4G enabled smartphone to work as a traditional two-way radio.  You can run a new network, composed entirely of Motorola WAVE PTX devices, or integrate with an existing digital radio network.
How Can Long Range Two-Way Radio Benefit My Business?
You can turn your mobile device into a push-to-talk handset using the WAVE PTX mobile app and get instant communication at the touch of a button.
Very quick and easy to setup – no difficult installations, or infrastructure requirements.
Use your existing SIM and data plan, so there are no hidden costs.
The app works on Google Android, iOS or PC so there are no restrictions to enable WAVE PTX to work on your platform of choice.
Use your wi-fi or a 4G connection to communicate with your team on their existing digital radio network, from anywhere in Europe.
You get the peace of mind to know that you can still be part of the conversation, even when not on site with your team.  Increase the efficiency and effectiveness of your organisation by reducing the barriers to communication.  The subscription based service means that costs are fixed, with no usage-based call charges, allowing you to easily balance your budget.
Mobile App subscriptions are less than £100 per year
.
WAVE PTX can be used throughout your organisation, using a variety of hardware:
Front Office: Tablet
In the field: Smartphone or Hands Free Car Kit
On site: Digital Radio
Back Office: Desktop

Both large organisations with multiple communication needs and smaller, more dynamic operations can benefit from the increased efficiency that WAVE PTX will provide.
If GPS location is important to you, the WAVE PTX Despatch client is a browser based application which can display the position of all users on Google maps, show historical positions and allow a despatcher to communicate and message with all users:

WAVE PTX Options
TLK 100
The benefits of WAVE PTX and a rugged two-way radio on a Europe-wide network.
The TLK offers a slim and lightweight form factor that can withstand everyday knocks and drops and combines 3G/4G and Wi-Fi connectivity to provide fast and reliable broadband PTT communications.
You can have a mix of TLK handsets, WAVE PTX apps running on your smartphone and traditional Motorola Solutions handportables, to enable the best possible communication on site.
The TLK 100 can be provided with a purpose built hands free car kit for safe and secure use when in a vehicle.
TLK 150
The TLK 150 can be quickly deployed in your vehicle fleet, allowing you to safely communicate with a single button push.  You can even use the TLK 150 with your current compatible MOTOTRBO systems, LMR and smartphones. There's no costly or time-consuming FCC or spectrum licensing, or manual programming required.
The TLK units come with the WAVE PTX App pre-installed, so your comms network can be up and running in no time.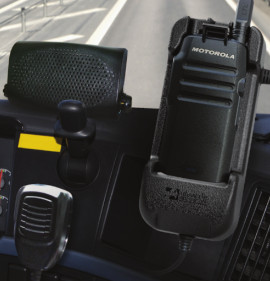 TLK 100 – Hands Free Car Kit
If you need the portability of the TLK 100, but still need to use it while in your vehicle, we can provide a purpose built TLK 100 hands free car kit, for safe use while driving.  The hands free kit has been designed with MIL Spec specifications to provide a single hand operation for safe use of the TLK in PTT (Push To Talk) mode.
Connecting WAVE PTX To Your Existing Network
Are you working from home, but need to keep in touch with communications on site? Connect WAVE PTX to your existing MOTOTRBO solution using a 'WAVE PTX Gateway'.  This allows multiple concurrent conversations, across both the existing network and WAVE PTX, through a single gateway.  This is supported on both Motorola Solutions Capacity Max and Capacity Plus systems.

Tell us what you need
Are you running or setting up a site and need the right communications package for smooth, efficient operations? Talk to our Chat-Com team to find out how we can help you. Call us on 01747 898 008 or email us at [email protected].

Chat-Com is an official Motorola Solutions Silver Reseller
Don't See What You're Looking For? Get In Touch.