On Site Two-Way Radio Networks
Creating A Digital Two-Way Radio Network For Your On Site Communication
Why do I need a radio network on site?
Chat-Com can provide a 'best-in-class' professional digital radio network. This network will:
Transform logistics and operations on site
Ensure vital communications during evacuation processes
Add another dimension to your health and safety procedures
Improve communication between the GC and contractor teams
Provide Contractor Teams on site with a full comms network
Provide communications for the duration of a multi-year project
Why Choose Chat-Com for my two-way radio network?
We provide bespoke, two-way communication solutions that are expertly tailored to your requirements. Offering digital, wireless two-way radio solutions, we create a communications package that is customised to your precise needs.
We operate across the UK and within Europe, selecting the right solution for you from leading manufacturers such as Motorola and Hytera. Our clients include large-scale contractors such as Mace, Fluor, SISK, Amey, Dornan, Severfield and Mercury. We have the experience on big projects to know how to integrate with your technical, logistics and finance teams to ensure a smooth rollout, with the features that you need, with superb value for money.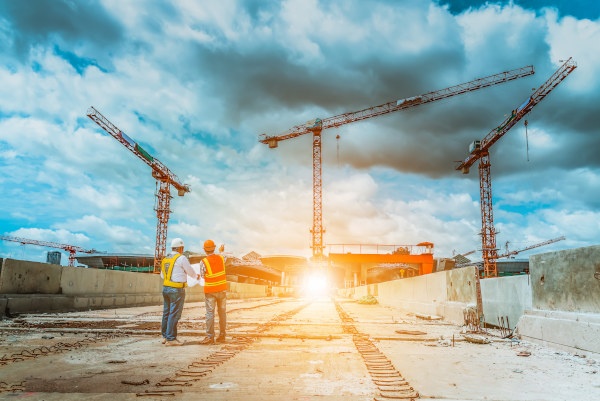 The Best Features of a Digital Two-Way Radio Network
Our Chat-Com networks are designed with the requirements of the customer in mind, which is scaled up and down based on the needs of the project. A typical set of requirements would be:
To cover the entire site, with no 'blackspots'
Provide a network capable of handling at least 120 handheld radios, with 4 simultaneous conversations
Provide robust and rugged handheld devices which can work in all weathers and environments
The system must be capable of working for at least the next 3 years
A health and safety benefit on site, to cover evacuation procedures, lone worker and panic situations
Provide multiple channels on the radios, to allow different teams to talk together
Be capable of growth, to allow new sub-contractors to join the network as they join the project
Two-Way Radio Accessories
Chat-Com recommend a range of radio accessories to complement the network and improve the safety of staff and improve ease of use.   This would include:
Remote Speaker Microphones to enable hands free comms
High impact leather carry cases, to improve durability
Helmet mount headphones, with noise cancelling technology
D-type covert earpieces
6 Way and individual charging units
The Chat-Com Process – How Do You Setup a Two-Way Radio Network?
In order to cover the entire construction site with no blackspots, Chat-Com will supply a professional Digital Two-Way Radio Solution (Systems Radio Network) offering blanket site coverage (2KM minimum radius). This is provided with the use of a four stack UHF antenna, installed in a central location at an elevated position to provide full site coverage. Multiple Motorola SLR digital repeaters will ensure that team members can communicate from one side of the site to the other. The repeaters can be supplemented with a multi-channel antenna combiner (removing the need for multiple antennas and installation points).
This Chat-Com network can handle hundreds of digital handheld two-way radios across up to 99 channels. In order to grow the network further beyond the initial install, Chat-Com can add additional capacity with extra repeaters.
The networks we provide are designed to last for the duration of a multi-year project and is capable of growth, re-programming and re-installation where necessary.
Health and Safety Benefits of a Two-way Radio Network
The Chat-Com networks can include vital health and safety features such as:
Emergency All-Call
Lone Worker
Panic
To find out more about these features, you can read about them in our Health and Safety section.
Tell us what you need
Are you running or setting up a site and need the right communications package for smooth, efficient operations? Talk to our Chat-Com team to find out how we can help you. Call us on 01747 898 008 or email us at [email protected].

Chat-Com is an official Motorola Solutions Silver Reseller
Don't See What You're Looking For? Get In Touch.