Two-Way Radios For Vehicles
Chat-Com provides a two-way radio service for transportation companies that can include GPS Tracking and vital comms
Improving Transportation Logistics and Communication
Modern two-way radios aren't limited to working over a short range on a specific area, such as a building site.  The increase in 4G coverage has meant that you can get all the benefits of a two-way radio network, but with an unlimited range.
This is particular desirable in the logistics and transportation sectors, where the ease of using two-way radios for vehicles still far outweighs the use of mobile phone technology.  The single button push, clear digital audio and one-to-many broadcasting is preferable for drivers who need to talk to the rest of the fleet, without having to operate and unlock a mobile phone.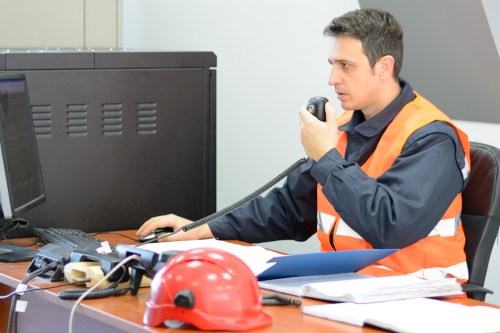 WAVE PTX from Motorola Solutions is a two-way radio network that operates over 4G, 3G and wi-fi and can be installed into a fleet of vehicles, for use by drivers.   You can setup call groups within the fleet, so that groups of drivers can communicate between themselves, or a fleet wide group of up to 200 vehicles can be created.  That way, in an emergency situation, all drivers on the road can be made aware of a critical situation, with just a single button press.
If you want to control your fleet from the office, you can include the WAVE PTX Despatcher.  This PC based software uses the GPS receiver in the vehicle radios to plot their position on to Google Maps.  The despatcher can communicate with any individual vehicle, or use call groups as required.  The software can show current vehicle position, as well as historical information from the vehicle journey.
For other staff members who want to be part of the network, but don't need a specific radio device, WAVE PTX can be installed on to an Android or Apple smartphone.  The App can be used in the same 'one button press to talk' mode and you can also transfer files and send messages to and from the despatcher.  This additional functionality means you can use WAVE PTX as a confirmation of delivery device, reducing the need for multiple devices being used by your drivers.
Amey – Transport for Scotland – Communication solution for long-range application
Our Clients
Our Transport Radio Benefits
The benefits of a Chat-Com system include:
Long range coverage with no black spots.
All-Call Emergency broadcast function to improve safety
Simple process to add new call groups to your network, improving logistics.
Multiple simultaneous conversations, to avoid delays in communication.
GPS tracking from the Despatcher PC software
Talk to us about your Transport logistics requirements
If you are looking for an expert to develop the right communications solution for your fleet, talk to us. You can reach us on 01747 898 008 or by writing to us at [email protected].