Bute Motorsport: providing best in class communications for the pit wall
Clarity and flexibility in the high-pressure world of Motorsport
Bute Motorsport contacted us looking for a 'the best long range walkie talkie solution' to provide clear and flexible communications inside the very noisy environment of the pit wall on race day.
Project Overview
Bute Motorsport was founded in 2007 and was the brain child of Marc Haynes who, having been frustrated by the lack of racing opportunity for sporting drivers and their varied race cars, developed and created the idea of a GT Cup race series to provide the ideal environment for like-minded racers.
Bute Motorsport has become an established part of the United Kingdom's racing scene over its 13 years where all the teams may fully indulge their passion for racing.
Client requirement: clear and flexible communications
Bute Motorsport required a long range two-way radio solution on race day that would work in the high speed and very noisy environment of the pit wall.  With team members in different areas of the paddock, some in the pits and others in the team office co-ordinating operations, they need the ability to do both group calls and quick private calls to ensure the smooth operation of the team.
Our approach
Chat-Com provided the best-in-class Motorola DP4400e and DP4800e (display & keypad model) professional licensed digital radios, which are known for their robust frame and clarity of signal.  We also provided noise cancelling headsets for the team in the pits, with earpieces and hands free headsets for the other team members around the site.  The noise-cancelling headsets provide crystal clear communication even in the noisiest of locations, whilst also being able to hear face to face conversations, without having to remove the headset.  We setup an ID for each radio, so that the Team Leader could call each team member individually when they needed to ,whilst also having a one-click group call to the whole team.  This provided the flexibility and responsiveness the team needed on race day.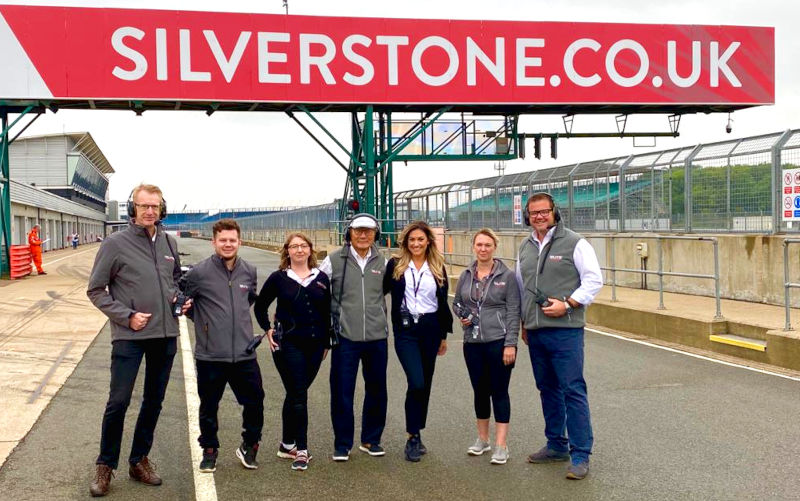 Outcomes
The Chat-Com Solution has already been used in the first race of 2020 and we look forward top helping the team to more success over the next few years.
Client Feedback
"We are thrilled to be welcoming Chat-Com to the GT Cup family. Clear communication for us across a race weekend is vital as we're relaying information to members of our team spread around the circuit and Chat-Com will be delivering that with our new bespoke radio solution."
Specialists in complex site communications
Complex sites need not mean non-existent or problematic communications. There is always a solution that will offer safety for workers and operational efficiency.
Our Chat-Com team has over 20 years' experience providing effective two-way communication solutions. Find out how we can help you too by calling us on 01747 898 008 or emailing us at [email protected].